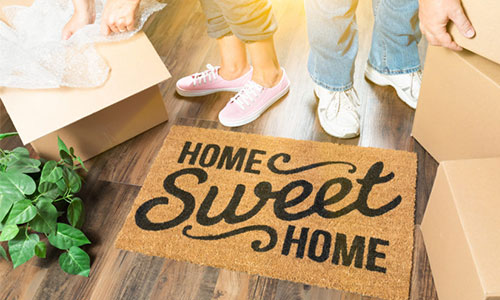 HOW TO PLAN FOR THE FULL COSTS OF MOVING HOUSE IN LONDON
First time buyers are in particular risk of underestimating the cost of moving house in the capital, with a major focus on getting together their deposit before contemplating any additional costs. Luckily, moving costs are entirely predictable once you understand the services you require. Stamp Duty, conveyancing costs and house removals are all costs you can factor in ahead of time.
No one should face "unexpected" costs on moving day. Here we'll run through the main costs relating to moving house so you can plan ahead and get saving.

Set out your budget in good time
To begin with, you should work out a rough estimate of the savings you'll need to cover the cost of moving house.
Are you purchasing your next house? Many of the costs you face will be relative to your house price, so you'll be able to use your budget work out your cost of moving. Are you renting? You'll be able to use your projected monthly rent to work out the extra costs involved.

We'll run through the different costs you might pay in the next section so you can make your calculations and start saving.
Planning core costs when buying a home in London

When you're buying and selling a home, there are some costs you can't escape. You'll be aware of the costs involved in saving up a deposit for a new home, but there are a few extra costs you'll need to budget in:
Conveyancing
These are the fees payable for your solicitor or Conveyancer. In a nutshell, the fees you pay are fees paid on your behalf to third parties (disbursements), and the legal fees paid to your conveyancer. You can expect to pay your conveyancer between £600 to £2,000 depending on the cost of your home, the service you require, and the area you're buying. Read more about conveyancing costs including disbursements here.

Stamp Duty
You'll know the exact amount you can expect to pay for Stamp Duty because it's relative to your house price. It can get confusing as you'll pay a different percentage on different portions of your house price, so use helpful tools like our Stamp Duty Calculator. For example, you'll pay £10k in Stamp Duty when purchasing a £400k home. Remember that first time buyers don't have to pay Stamp Duty on properties below £300,000 and get relief on homes which cost up to £500,000.
Planning core costs when renting
Although you dodge the costs faced by home buyers like Stamp Duty and conveyancing, if you're renting in London there's still a significant amount to save ahead of your move. Your current deposit won't be freed until you leave your current premises so don't assume you'll have that balance towards your next home.
You'll pay a holding fee of one week's rent, and your deposit against damages will be maximum 6 weeks rent. Though soon to be abolished, you'll want to factor in Estate agent fees if you're moving before June 2019. Add this all together and this will be the amount you need to put aside to save.
Planning your extra moving costs
Once you've totalled your core costs involved in moving house, it's time to factor in any additional costs like house removals and a property survey.
House removals
For the average 3 bedroom home you could expect to pay around £850 for house removals, which could rise to as much as £1,300 if you opt for full extra services like packing. Every house move is different, but the cost will always come down to the volume of your contents, the distance travelled, and the time taken. Most removal companies will give a no obligation quote following a home survey, so this cost is certainly something you can factor well in advance.

Property surveys
London has a huge amount of older properties, and a property survey by a chartered surveyor will unveil any hidden defects and structural issues in your home. The most common option is a RICS Homebuyer Report, which starts from around £400 but will scale relative to the size and cost of your new home. Because of this you should budget in around £600 to £800 for a Homebuyer Report for your London property.
Spreading the cost
Once you've tallied up the cost of your move and decided on the extra services you require, you'll want to save gradually to make the costs more manageable. Take your total estimated moving cost and split it across the time left before your predicted moving day.

Set up a direct debit straight into your savings account every month on payday up until moving day. The extra costs can be substantial, and if you know well in advance you could prolong the time spent saving to meet these fees.
This article was provided to us by a 3rd party, whilst believed to be factually correct, we cannot accept responsibility for content contained within it.